Barcos cosechadores
La unica manera de cosechar sin parar
Nuestra reputación reposa sobre resultados reales
Capaz de cosechar cerca de barreras flotantes, de diques y en aguas con poca profundidad gracias a su calado bajo.
Capacitamos los capitanes y marineros con técnicas avanzadas de cosecha.
Excelente visibilidad gracias a su bordo de navigation adelante del Sargaboat.
Centro de gravedad bajo para una excelente estabilidad en las olas.
Posibilidad de trabajar de noche con luces delanteras (opcional).
El barco no atrapa a la vida marina.
Nuestro Sargaboat™ patentado trabaja con nuestras sargabarriers™ para cosechar sargazo, salvinia y escombros flotantes.
The boats invented by Denis Jimenez are specially conceived to have the best size for optimum maneuverability, efficiency and capacity. The maintenance is light and simplified.
One Sargaboat™ can harvest about 500m³ of sargassum in an 8-hour workday. The Sargatrailer™ has a capacity of 8m³.
The autonomous trailers, our Sargatrailers™, are outfitted with an engine, very easy to operate and can be switched in minutes.
This is the most adapted solution to collect sargassum and floating debris, stable, easy to maneuver dual-motor catamaran type, robust, light and durable heavy-duty conveyor with several loading speeds.
Custom options are available (loading crane, bagging system, double box system, etc.). Our CEO and engeneer Denis Jimenez will help determine the best options for you. We can study all the possibilities according to your needs.
PORQUE ES LA MEJOR SOLUCIÓN?
Un Sargaboat™ cubre una area larga y varios Sargatrailers pueden estar añados para cubrir mas distancia entre el lugar de cosecha y el punto de descarga. Para conservar una buena eficiencia maxima en una area muy grande, tener varios sargatrailer saldrá más barato que tener varios barcos cosechadores.
One Sargaboat™ covers a very large area and several sargatrailers can be added to cover more distance from the unloading point to the harvesting area. In order to cover properly a large area, buying more units of sargatrailers will result in a much cheaper investment than buying many harvesting boats.La relación costo/rendimiento (adquisición y costos operaciones) es el mejor del mundo.
The size of the boats make it easier to park them in a harbor or on land.
Nuestro Sargaboat™
y Sargatrailer™
La mejor solución para cosechar algas, plásticos y escombros flotantes.
Excellente estabilidad, facilidad de manejo con doble motores de tipo catamaran, ligeros y durable.
Banda de récollection con diferentes velocidades, robusta y adjustable
Opciones disponibles: grúa de carga, rieles de guía y más...
Un Sargaboat™ puede cosechar 500m³ en un solo día de 8 horas
Los remolques son autónomos con motores
Los remolques son faciles de intercambiar en minutos y la navegación es simple
Otros usos de un sargatrailer™
Fuera de la temporada de sargazo: limpiar barreras de la vida marina y asegurar el mantenimiento, usar o rentar para el buceo o como una plataforma de trabajo.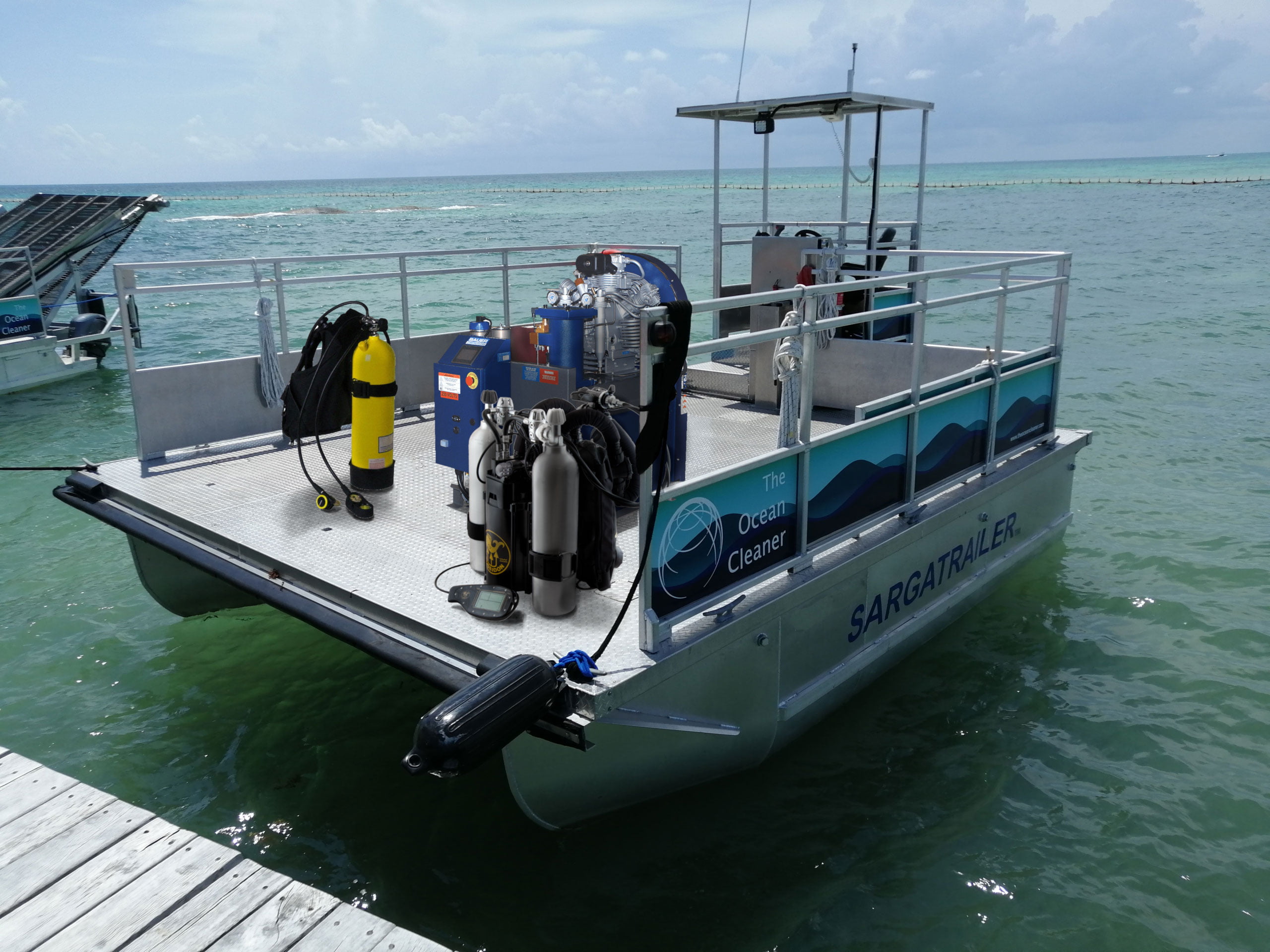 DESIGN AND SALES OF BOATS, BARGES, RAFTS AND TRAILERS
CAPTAINS AND CREW TRAINING
as well as on our boats and barges usage
STUDIES AND ADVICE FOR UNLOADING SOLUTIONS
From docks and beach points
SALE AND INSTALLATION OF BARRIERS AND EQUIPMENT
to protect beaches, bays or other areas
LET US HELP YOU
WITH YOUR SOLUTION

THE OCEAN CLEANER.