Bateaux de récolte
Un travail non-stop pour une efficacité à toute épreuve!
Notre réputation est basée sur des résultats réels
Able to collect along floating nets, docks, and shallow waters with a low boat draft.
We will help you to train the crew with the most efficient  harvesting techniques.
Steering wheel at the front for excellent visibility.
Low center of gravity : good stability at sea.
Able to work at night with headlights (optional).
The boat doesn't catch any marine life.
Notre Sargaboat™ travaille en complément de nos sargabarriers™ avec une efficacité inégalable pour récolter sargasses, salvina et débris flottants.
The boats invented by Denis Jimenez are specially conceived to have the best size for optimum maneuverability, efficiency and capacity. The maintenance is light and simplified.
One Sargaboat™ can harvest about 500m³ of sargassum in an 8-hour workday. The Sargatrailer™ has a capacity of 8m³.
The autonomous trailers, our Sargatrailers™, are outfitted with an engine, very easy to operate and can be switched in minutes.
This is the most adapted solution to collect sargassum and floating debris, stable, easy to maneuver dual-motor catamaran type, robust, light and durable heavy-duty conveyor with several loading speeds.
Des options personnalisées sont disponibles (grue de chargement, système d'ensachage, système de double boîte, etc.) Notre PDG et ingénieur Denis Jimenez vous aidera à déterminer les meilleures options. Nous pouvons étudier toutes les possibilités en fonction de vos besoins.
Pourquoi est-ce la meilleur solution?
Un Sargaboat peut collecter plus de 500m³ par jour.
One Sargaboat™ covers a very large area and several sargatrailers can be added to cover more distance from the unloading point to the harvesting area. In order to cover properly a large area, buying more units of sargatrailers will result in a much cheaper investment than buying many harvesting boats.The price to efficiency ratio (acquisition and operating costs) is the best in the world.
The size of the boats make it easier to park them in a harbor or on land.
Our Sargaboat™
and Sargatrailer™
The best adapted solution to collect algae and debris such as plastic
Stable, easy to maneuver dual-motor catamaran type, light and durable
Heavy-duty conveyor with several loading speeds, robust and adjustable
Custom options available (loading crane, rails for trailers, etc.)
Sargaboat™ can harvest more than 500m³ in an 8-hour workday
Autonomous trailers equipped with an engine
Trailers can be switched in minutes, easy to use
Autres utilisations des Sargatrailers™
Off sargassum season : clean the barriers of barnacles and marine algae for maintenance, use or rent for scuba-diving or as a working and service platform.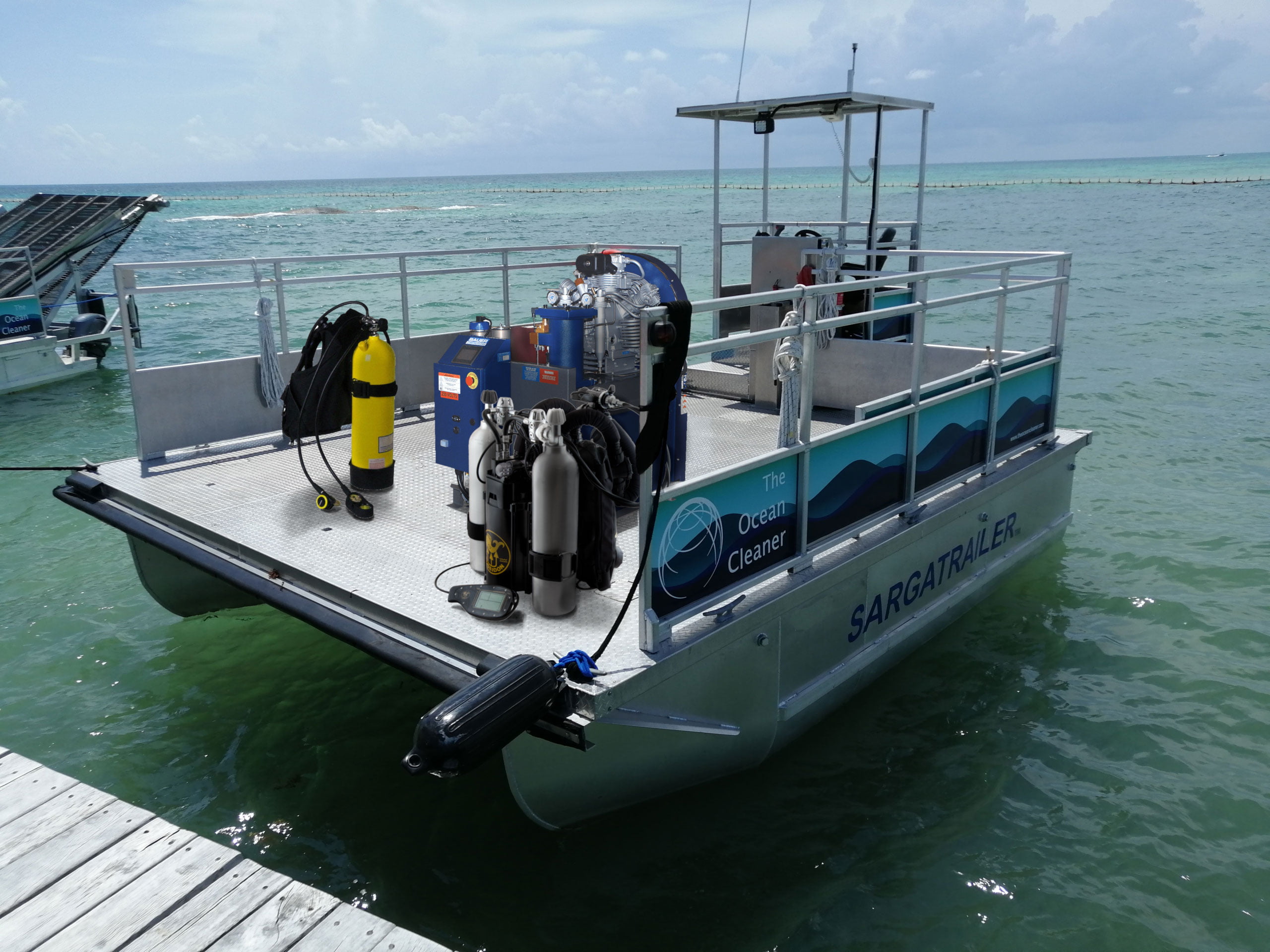 CE QUE NOUS POUVONS FAIRE POUR VOUS
CONCEPTION ET VENTE DE BATEAUX, REMORQUES, RADEAUX ET REMORQUES
CAPTAINS AND CREW TRAINING
Ainsi que conseils sur l'utilisation de nos bateaux et remorques
ÉTUDES ET CONSEILS POUR DES SOLUTIONS DE DÉCHARGEMENT
From docks and beach points
VENTE ET INSTALLATION DE BARRIÈRES ET ÉQUIPEMENTS
Pour protéger les plages, les baies ou d'autres zones
LET US HELP YOU
WITH YOUR SOLUTION

THE OCEAN CLEANER.